"avertizare pt.perioada 6-13.05.2008"
din data de 10.05. 2008 :" vad oameni dormind in paturi suprapuse in supemarketuri"
Imaginea seismogramei de azi 12.05.2008 la statia Vrincioaia
(pt. Bucuresti si Iasi vedeti mai jos)
Imaginea seismului din 7.05.2008 din zona Marii Negre, in fata Deltei Dunarii (sudul Ukrainei) la statia Vrincioaia(vedeti mai jos seismogramele de la Bucuresti si Iasi de azi si ieri)
Perioadele critice din 2008/Critical periods for the year 2008
Apasati pe imaginea de mai jos
/
click on the image
Inainte de schimbarea axei Terrei frecventa cutremurelor va creste exponential /Before the Pole Shift, the quake frequencies becomes exponential
A inceput o intensificare a activitatii seismice
Cutremurele mai mari de 6.5 in 2008
Date Time(UTC)/Latitude(degrees)/Longitude(degrees)/Depth(km)/Magnitude/Region name
2008-05-12 06:27:59.0 31.12 N 103.24 E 10 Mw 7.8-8.3 EASTERN SICHUAN, CHINA


2008-05-09 21:51:30.8 12.54 N 143.23 E 80 Mw 6.7 GUAM REGION

2008-05-07 16:45:18.3 36.20 N 141.47 E 34 Mw 6.7 NEAR EAST COAST OF HONSHU, JAPAN
2008-05-02 01:33:40.2 51.99 N 177.34 W 40 Mw 7.0 ANDREANOF ISLANDS, ALEUTIAN IS.

2008-04-24 12:14:50.6 1.11 S 23.50 W 10 Mw 6.5 CENTRAL MID-ATLANTIC RIDGE
2008-04-16 05:54:22.4 51.93 N 179.08 W 40 f Mw 6.5 ANDREANOF ISLANDS, ALEUTIAN IS.


2008-04-12 00:30:11.5 55.67 S 158.56 E 10 f Mw 7.1 MACQUARIE ISLAND REGION

2008-04-09 12:46:18.4 20.13 S 168.86 E 80 f Mw 7.3 LOYALTY ISLANDS
2008-03-29 17:30:50.5 3.02 N 95.41 E 10 f Mw 6.5 OFF W COAST OF NORTHERN SUMATRA


2008-03-20 22:32:59.5 35.49 N 81.48 E 20 f Mw 7.2 XINJIANG-XIZANG BORDER REGION
2008-03-12 11:23:34.6 16.55 S 167.30 E 10 Mw 6.5 VANUATU

2008-03-03 14:11:12.7 13.39 N 125.73 E 10 Mw 6.9 PHILIPPINE ISLANDS REGION

2008-03-03 09:31:02.7 46.50 N 153.20 E 10 Mw 6.5 KURIL ISLANDS

2008-02-25 21:02:21.0 2.19 S 99.87 E 40 Mw 6.5 KEP. MENTAWAI REGION, INDONESIA

2008-02-23 15:57:19.9 57.12 S 23.45 W 10 f Mw 6.8 SOUTH SANDWICH ISLANDS REGION
2008-02-20 08:08:28.6 2.85 N 95.95 E 10 Mw 7.3 SIMEULUE, INDONESIA
2008-02-14 10:09:22.5 36.57 N 21.75 E 30 f Mw 6.9 SOUTHERN GREECE
2008-02-12 12:50:24.1 16.56 N 94.18 W 121 Mw 6.5 OAXACA, MEXICO

2008-02-10 12:22:07.3 60.91 S 25.65 W 34 Mw 6.5 SOUTH SANDWICH ISLANDS REGION
2008-02-08 09:38:14.6 10.71 N 41.90 W 10 f Mw 6.9 NORTHERN MID-ATLANTIC RIDGE
2008-01-15 17:52:12.7 21.82 S 179.56 W 562 Mw 6.5 FIJI REGION

2008-01-05 11:44:50.9 51.04 N 130.72 W 40 Mw 6.5 QUEEN CHARLOTTE ISLANDS REGION

2008-01-05 11:01:08.4 51.15 N 130.84 W 40 Mw 6.6 QUEEN CHARLOTTE ISLANDS REGION
Harta seismelor din Europa si de pe Terra din acest moment de pe situl Uniunii Europene(adaugati 2 ore la ora indicata pe harta)
http://www.emsc-csem.org/index.php?page=home
http://www.emsc-csem.org/index.php?page=home
Harta seismelor din zona Scandinava din acest moment : http://www.norsar.no/NDC/bulletins/gbf/lastweek.html http://jordskjelv.no/siste/auto/
Activitatea seismica de ieri (11.05)si azi(12.05.2008) in seismogramele pt. Bucuresti ,Bucovina Seismic Array si Iasi(Romania)
MAREEA MAGMATICA SI PERIOADELE
CRITICE DIN 2008
The Proxigean Spring Tide ( 12.12.2008)
is a rare, unusually high tide.
This very high tide occurs when the moon is both unusually close to the Earth (at its closest perigee, called the proxigee) and in the New Moon phase (when the Moon is between the Sun and the Earth). The proxigean spring tide occurs at most once every 1.5 years.
see:Perigee and Apogee Calculator on:
http://www.fourmilab.ch/earthview/pacalc.html
Coronal Holes :
INCREASED PROBABILITY FOR MAJOR SEISMIC EVENTS ON EARTH/
CRESTE PROBABILITATEA DE PRODUCERE A UNUI CUTREMUR IN ROMANIA
Perigeu/Perigee:
May 6,

2008,

ora/hour:

3:23 357771 km N+ 15h
Luna Noua/New Moon

:
May 5, 2008,

ora/hour:

312:19
Luna Plina/Full Moon :
May 20, 2008,

ora/hour:

3 2:12
Apogee/Apogeu:
May 20,

2008,

ora/hour:

314:29:
406402 km + F+ 12h
Faza actuala a Lunii/Current Phase of the Moon:

Updates every 4 hours):
Gravity Wave-Lapse of gravity wave action from the Tama, Iowa KCCI-TV webcam on 6 May 2007
Activitatea seismica din acest moment in nordul Romaniei(Slovacia)/Seismic activity in the north of Romania in this moment:
"SLOVAK NATIONAL NETWORK of Seismic Station"
http://www.seismology.sk/seismo/seismograms/CRVS.active.html
Status of Seismic Stations
http://www.seismology.sk/National_Network/national_network_A.html
Live seismogram from CRVS - Červenica(Slovakia) - Z component
Live Seismogram from Likavka - LIKS station (Slovakia) - Z component
Seismogram from Kolonické sedlo - KOLS station (Slovakia) - Z component
Cutremurul cel mai mare din anul 2008
| | |
| --- | --- |
| Magnitude | Mw 8.4 |
| Region | SOUTHERN SUMATRA, INDONESIA |
| | |
| Date time | 2007-09-12 at 11:10:24.7 UTC |
| | |
| | |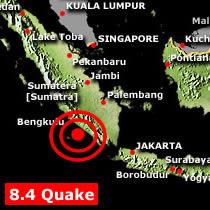 Zeta have repeatedly stated that EQ's would increase
during the days going into the pole shift;
http://www.wvva.com/News/index.php?ID=16491
The 8.4-magnitude quake that shook Southeast Asia
yesterday was the strongest this year.
This is just the start. We stated in 1995 that the quake increase would at first be lineal,then move to exponential.
Before the shift, as quake frequencies becomes exponential, will they occur so frequently in some areas that people will move into tents in their backyards rather than risk being inside a permanent structure?
The government is scarsely prepared for the catastrophes to come. At first, tent cities and trailers will be provided, but soon none of this will be moved out as all supplies will be exhausted and there will be too many demands.
CRESTE POSIBILITATEA PRODUCERII UNUI SEISM MAJOR
"Retragerea marii, nu e cauzata de un posibil atac terorist"
cum apare in stirea de mai jos:
07 Iulie 2007
http://www.stirilocale.ro/galati/Retragerea_marii_cauzata_de_un_posibil_atac_...
A revenit cenzurarea statiei Iasi seismogramele de dupa data de 8.08.2007(http://www.infp.ro/eqsinfo.php?p=helicorder
Vedeti mai jos amplificarea proceselor seismice din Muntii Fagaras in luna august 2007,
asa cum este indicata de statia Voina
Lista seismelor din Romania prezentata pe situl CENTRULUI DE AVERTIZARE SEISMICA BUCURESTI
http://www.fotonsas.ro/infoirsa/seisme%20recente.html
este incompleta(cenzurata) iar cutremurele sunt subevaluate
(vedeti politica mondiala de raportare a seismelor)

Reteaua de Statii Seismice a CENTRULUI DE AVERTIZARE SEISMICA BUCURESTI este inclusa in Proiectul Europeano-Mediteranean de Avertizare Seismica in Timp Real:

http://www.emsc-csem.org
"Seismo Dupe was put into place, Dumbing Down the Richters, shedding light on the odd Dead Calm Pattern noted throughout this Global Quakes documentation. Obvious Under Reporting continues. Despite this, on July 15, large back-to-back Global Quakes reappeared, with an odd Global Wobble afterwards"see:
http://www.zetatalk.com/index/global.htm
Alte link-uri:
Massive Guatemala Sinkhole Kills 2 Teens
http://www.cbsnews.com/stories/2007/02/23/world/main2508879.shtml
http://geology.com/news/2007/02/guatemala-sinkhole.html
A panoramic view of the place where a structure collapsed in Guatemala City, Friday, Feb. 23, 2007. A giant sinkhole swallowed several homes and at least three people had been reported missing, officials said. (AP)
Monday, February 26, 2007
Guatemala Sinkhole
Image by USGS
A very large sinkhole
collapsed suddenly in Guatemala City, taking several homes and vehicles with it.
China, Guangxi Province, Over 100 Holes Appear [Mar 21] http://news.sina.com.cn/c/2007-03-21/082412574210.shtml



Guangxi Province lies between several areas of turmoil. To the South and West lies the curve of the Indio/Australian plate, which is being driven under the Himalayas, to the East lies the Philippine plate, which will increasingly lose out during the adjustments the plates make prior to the pole shift, losing ground and eventually disappearing as a discernable plate. The tongue of the great Eurasian plate that holds Guangxi Province also holds much of Indonesia, which will also suffer during the pole shift, crumbling. This tongue is not stable, and much fracturing of rock will occur during the turmoil in the area. This fracturing of rock has already begun!
Mai jos informatii utile din situl :
http://www.cutremur.net/category/cutremure/
Noaptea trecuta la ora 23.44, ora Romaniei in zona Vrancea s-a produs un cutremur cu magnitudinea de 4.8 grade pe scara Richter anunt de EMSC la o adancime estimata la 148km.
Harti seismice
Aceasta pagina contine hartile seismice realizate de cutremur.net. Pentru a vedea hartile la dimensiune mare faceti click pe ele.
Harta zonarii seismice a Romaniei prezinta intensitatile pe scara Mercalli in diferite zone ale Romaniei.
Harta cladirilor din Bucuresti prezinta cele mai importante cladiri din centrul Bucurestiului si categoria de grad seismic in care acestea sunt incluse.
Harta seismelor din Vrancea prezinta localizarea exacta a epicentrelor principalelor seisme care s-au produs in zona Vrancea
Harta microzonarii seismice a Bucurestiului contine informatii detaliate in functie de cartier in ceea ce priveste acceleratia terenului in cazul cutremurelor puternice produse in Vrancea. Atentie! Aceasta harta nu este oficiala, ea a fost realizata de noi in urma informatiilor care au aparut in presa in momentul in care INFP a anuntat realizarea acesteia.see more/vedeti:
http://www.cutremur.net/despre-noi/
Kate Bush song, Hello Earth
Lisa Gerrard - Now We Are Free
Click to join EARTHANDINTERPLANETARYCHANGES